Hosting:
streamline-servers.com
Visit Streamline-Servers
Rating:

4.5

Price range:

$0.9 - 1.13 per slot

Slots:

10 - 100

Trial period:

There is no trial version

Promo codes for Streamline-Servers:

goodgameservers

Server location of game hosting:

Australia

Australia Sydney

Australia Melburne

Australia Perth

Australia Brisbane

Canada QC Montreal

France Paris

Germany Nuremberg

Netherlands Amsterdam

New Zealand

New Zealand Auckland

Poland Warsaw

Singapore

United Kingdom London

United States CA Los Angeles

United States TX Dallas

United States WA Seattle

United States FL Miami

United States IL Chicago

United States NY New York

United States AZ Phoenix

Payment cycle:

1,3,6,12 months

Website languages:

English

More details about Streamline-Servers
Payment methods:
Mod support:

All Mods Supported

1-Click Install & Update

Mod Manager GUI

Customer support:

Ticket System

24/7 Support

Notes:

48 Hour Money Back Guarantee

Established in 2007

Control panel:

TCAdmin

Cluster support:

Free
ARMA 3 takes place on the Aegean islands of Altis and Stratis of Greece, in the Mediterranean Sea. The islands feature photo-realistic terrain and water environments. Altis is the largest official terrain in the Arma series with ground area covering approximately 270 km2. The smaller island, Stratis, expands over an area of 20 km2.The islands also feature over 50 villages with buildings that are both penetrable and destructible.

Set more than 25 years after the events of ARMA 2, in 2035, NATO forces deployed to islands of the Aegean Sea are trying to hold off a massive CSAT's offensive from the east. During the single player campaign, the player takes on the role of a US Army soldier, Corporal Ben Kerry. Initially, the player must survive on his own after friendly forces are defeated in a failed NATO operation. During the campaign, the player will face everything from lone wolf infiltration missions to the commanding of large scale armoured operations. The player will be able to choose different objectives and weaponry (such as UAVs, artillery, and air support) according to their play style.

Server Functions
INSTANT INSTALLATION
After your order is placed and payment is confirmed, your service will be installed in minutes ready to play out of the box!
LOW PING SERVERS
Our Internationally renowned network, has been designed by gamers for gamers, offering lag free gaming for all players!
SERVER MODDING
We currently offer a one click install system. Simply install any addons from our Mod Manager.
CONTROL PANEL
With its flexible design and powerful features, our control panel gives end users complete control over their servers.
Streamline Control Panel
With its flexible design and powerful features our Game Panel was designed from the ground up to help today's players save time, while allowing complete control your server.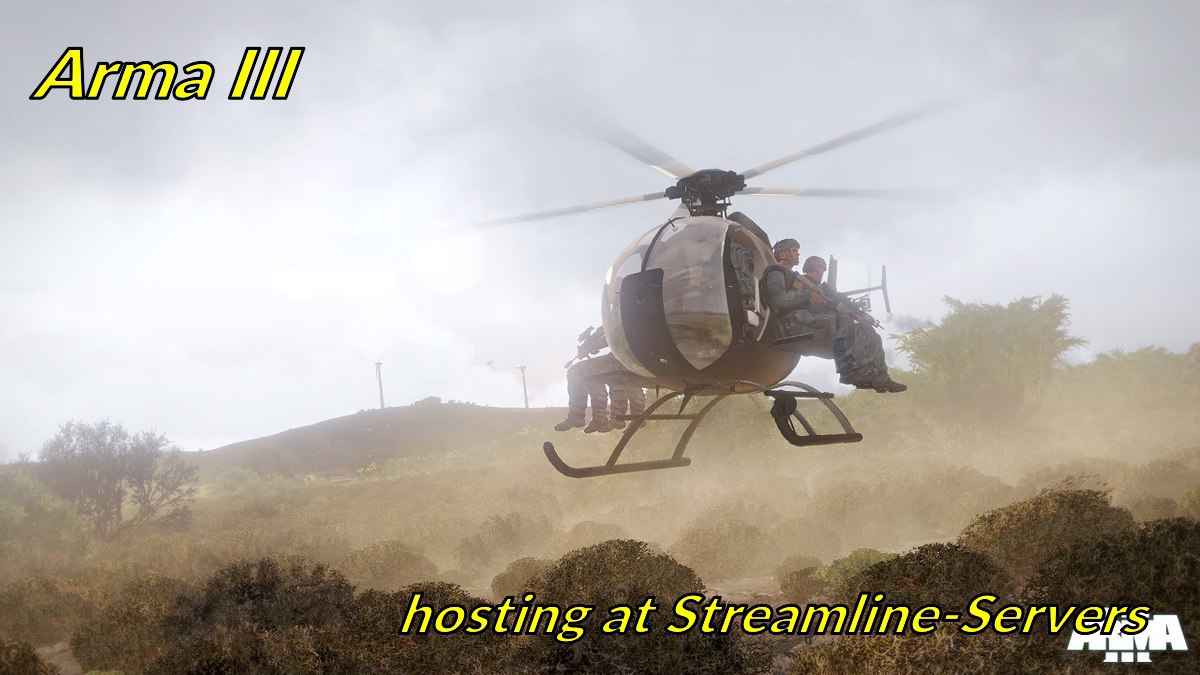 Last reviews about Streamline-Servers:
Very satisfied customer.After suffering with other server providers I came across streamline-servers.Server has been running most of the time very well but with occasional hiccup.The support team is dedicated and do go the extra mile to help out.Response from the moment a ticket is submitted to reply is clearly the quickest I have come across.Even evening hours and weekends.The location I contact should I have problem is Australia so I don't know if other locations keep same high standard.They may be a bit more costly but I'm with them to stay.A+ server provider.

I ordered Web hosting for game server …I ordered Web hosting for game server database and Fast download web server for my CSGO serverWhen my bandwidth limit ended, there is no any notification on email for that, my web-server locked and players cant download filesAlso there is no option Control panel to pay off limits and no option to upgrade package in Control panel. Only support ticket can helpThe result: 2 hours of game server downtimeIts happend in 2017! Guys where is your automation? Open your eyesTicket #417641 Moved to OVH

Great Staff. Excellent Service.Any issues that arise are always dealt with by staff as soon as they are notified. My server has great uptime and never goes down. Staff are friendly and gives clear instructions when providing assistance.