Hébergement:
nitrado.net
Visit Nitrado.net
Evaluation:

4.1

Fourchette de prix:

$0.69 - 1.3 per slot

Slots:

4 - 200

Période d'essai:

Pas de version d'essai

Promo codes for Nitrado.net:
Server location of game hosting:

Argentina Buenos Aires

Germany Frankfurt

United Kingdom London

Turkey Istanbul

United States CA Los Angeles

United States FL Miami

United States NY New York

Payment cycle:

3,30,90,365 days

Website languages:

DEUTSCHLAND

EUROPE (ENGLISH)

SPAIN

TÜRKIYE

FRANCE

POLSKA

ΕΛΛΆΔΑ

ITALIA

NL

LATAM

US

More details about Nitrado.net
Méthodes de paiement:
Support de mods:

All Mods Supported

1-Click Install & Update

Mod Manager GUI

Assistance clientèle:

Ticket System

24/7 Support

HotLine

Live Chat

Notes:

Free Subdomain

Automatic Backups

Prepaid

Game switching

Panneau de configuration:

Custom

Supports de clusters:

Free
The successful game ArmA 3, which was produced by the Czech development studio Bohemia Interactive, is a mix of tactical-shooter and military simulation. This interesting game is available on the prepaid game server hosted by Nitrado. The game was released on September 12, 2013 as a successor of ArmA 2. The scenario is set in the near future, the year 2034. Turkey was hit by several natural disasters and Iran used this to move up into Greece. At this moment, NATO has to intervene to push the invaders back. The players have the possibility to choose between two maps, the island Altis, or the smaller island Stratis. Models were the Greek Islands Lemnos (Altis) and Agios Efstratios (Stratis). Also, there are up to four different factions to choose from: the North Atlantic Treaty Organization (NATO), the Canton Protocol Strategic Alliance Treaty (CSAT), the Altis Armed Forces (AAF), or the Freedom and Independence Army (FIA). In battles with up to 100 players, the players can fight against each other for supremacy.

After the successor for Arma 2 was announced, the first images appeared in 2012 at E3. But when the former manager "Daniel Musil Bohemia" left the project, the project management was handed over to "Joris-Jan van 't Land" in December 2012. This meant that the planned publication was postponed to a later date in 2013. The reason was the incarceration of two employees, Ivan Buchta and Martin Pezla. They were captured and imprisoned on the Greek Island Limnos, after they were accused of espionage by the Greek Government. They were suspected of surveying the island and taking pictures of military buildings. Both said they used them for the development of ArmA 3. The trial was delayed due to a strike in the judicial system, so the two developers were released in January 2013, after a deposit of €5,000 was paid for each. After this, the development team decided to rename the selected island Limnos to "Altis". The community was integrated early, as the Alpha version of the game was released on March 5, 2013. Through this, the players could report bugs and give suggestions to customize the game, too. On June 25, 2013, the first Beta Version was released and the players had the same possibilities to improve the game even more.

After development finished, several DLCs, as well as a huge amount of modifications for ArmA 3 were released/created. On top of this, are the modifications Altis Life and Epoch, which set the players in different Open-World scenarios where they can participate in more adventures. They are also available for installation on the game servers of Nitrado.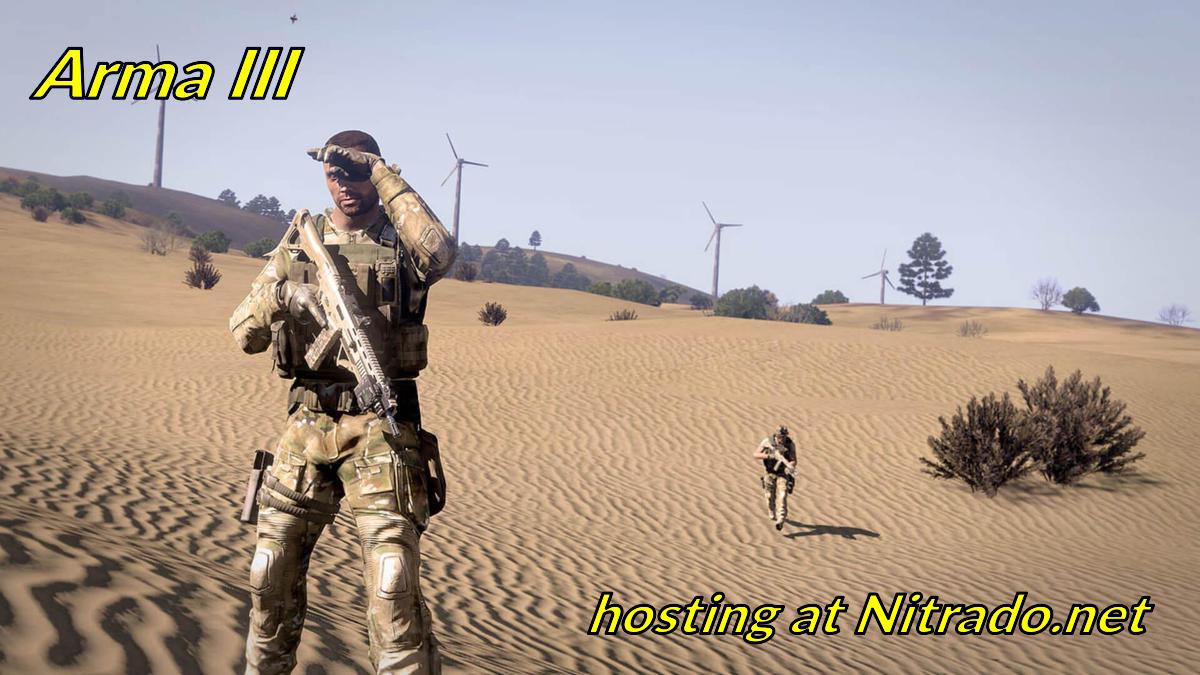 Last reviews about Nitrado.net:
I have had many host services & Nitrado…

I have had many host services & Nitrado is absolutely the best. Both in customer service which is what is most important to me. Plus the quality of their servers, control panel interface and ability to play games with my Community as a Broadcaster. I can recommend no company more highly.

Honestly never been happier with a…

Honestly never been happier with a service! Quickest replies and always super helpful when it comes to Tech problems. The staff are so friendly that you could just have a normal conversation with them. Honestly to anyone looking for a game server. These guys get it right first time. Give it a go!

Very good service

Nitrado is in my opinion one of the best, if not the best server hoster for various games. I'm very happy with the server performance and support. The people behind the scenes are very nice and helpful.